Hin Hiong Khoo
A skilled entrepreneur with a flair for international business. Mr. Khoo has assisted many companies in their public floatation in several stock exchanges internationally in the last 45 years.
He is the Chairman of a fully licensed PRC (Peoples' Republic of China) foreign joint venture ICT (Information and Communications Technology) entity with China's sixth largest transportation corporation and also Chairman of VoIUM Technologies Private Limited, a communications software company based in Singapore.
His first encounter with the PRC was in 1982 when he transacted with International Paper in Eugene, Oregon and sold 100 million board feet of timber for housing in China. He also founded two medical product companies in Malaysia and the US in the 1987/8, one of which he grew to become the largest latex glove producer in the world. These were acquired and eventually taken public on the NASDAQ Exchange. He was a partner of Softgen, a telecommunications software company that was eventually bought by a US public company in 1999.
Prior to this Mr. Khoo was the senior partner of a large thriving law firm in Singapore, which through his singular efforts served as lawyers to 70% of the oil companies doing business in Indonesia. Personally he has sat on the Board of companies like Teledyne Industries where he served as an international business advisor and has owned a seat on the Stock Exchange in Hong Kong together with his partner, the Suisse arm of the leading French bank, Banque de Paris et des Pays Bas ("Paribas").
Mr. Khoo was a Board member of 'China Access 2008', an economic initiative for the Beijing 2008 Olympic Games backed by the Beijing government. He was also a member of 'Investment 2000', a project initiated by the Australian government to coincide with the Sydney 2000 Olympics. Started in early 1998, this project resulted in some $520 million of new direct investment into the country by December 2000.
As a Board member of Pacific Rim Forum, a consortium of leading international businesses and governments, it involves him in strategic Asia Pacific businesses and advice on their corporate strategies. He was a guest lecturer at the University of Illinois at Chicago College of Business Administration and at Oral Roberts University College of Business.
Benjamin Ng Hock Aik
A serial entrepreneur who has been deep in the technology space since 1985, ranging from software to hardware to internet of everything. Fortunate to have worked for very successful owners from North America to Asia in the past 30 years so has built a network of contacts that can be brought to bear to launch a successful company.
Ben is consulted for a Singapore company that is the leading security technology player endorsed by the Singapore Government. He has also successfully raised funds and achieved a high valuation for the group, a monumental task considering the local company is still in its infancy growth. He also has the added responsibility of growing the business beyond Singapore initially to Malaysia and then to North America.
Previously, he exited some of his startups and listing a very prominent startup in NASDAQ before he joined the Singapore Government Technology Agency in 2014–15 to manage a S$500 million grant scheme.
In the earlier years when he was back from the U.S., Ben worked with multi-nationals winning major contracts before he embarked on multiple ventures that engaged with many top players from ASEAN to Asia to Global Markets.
During his 10 years stay in the U.S., Ben started work in Washington, D.C. for a global finance reporting company, Cambridge Associates, working directly with the owner, Mr. Hunter Lewis. Cambridge is a highly profitable niche market player that ranks Harvard, Princeton, Yale and Stanford as its top clients.
Ben also had a stint in the International Monetary Fund (IMF) working in the Treasury Department, tracking member's financial position with the IMF (the breakup of loans of Russia and Yugoslavia).
He was an integral member of Learning Tree International (LTI) prior to its IPO, spending 2 years to streamline and stabilize LTI's USA office and sales systems. (Learning Tree: NASDAQ: LTRE Market Capitalisation of US$250million, source Bloomberg 2004). Ben was then offered to start Learning Tree South East Asia, which he did based out of Singapore.
Personal: Ben is a Singaporean who lived 10 years in the U.S. having travelled to over 40 States before returning to Singapore. He received his Bachelor of Science Degree in Computer Science from the University of Maryland, College Park (UMCP is rated one of the top 20 Computer Science tertiary education institutions in the U.S.)
Chow Siew Chong
Mr. Chow has extensive corporate finance, research and consulting business development and IT experience in Singapore and the Asia-Pacific region, especially with SMEs including implementation, operation and financing of starts-ups, joint venture, structuring and re-structuring, divestment, business turnaround and Initial Public Offering. Adept in hand-holding SMEs to move up their value chain especially into digitalization including business model innovation and branding, his chief mission is to preach to them that size does not matter so long as business owners have the commitment and political will to reach such goals.
He has helped, advised, and led companies in diverse industries such as physical security, aviation, FMCG and IT, holding senior positions as Director, Vice President, Group Corporate Finance Manager and Consultant.
Most recently, he made significant impact spending over three (3) years to transform and corporatise a traditional local security guarding firm. He led the key intellectual property development and deployment for the local company, turning it into the industry leader and increasing the value of the company from Singapore to United Kingdom and USA. He explored, deployed, and expanded the services offered to clients from cutting edge wireless platforms to robotics to drones and more. His strategic role in Singapore saw the company gain national recognition and positioned it for exponential growth even after his departure. His experience is invaluable and is well respected by many top industry leaders from ministers to clients.
Mr. Chow has a Bachelor's degree in Business Administration from the National University of Singapore. He is a qualified financial advisor – Capital Markets & Financial Advisory Services Exam (CMFAS) Module 4A: Rules & Regulations for Advising on Corporate Finance (Institute of Banking & Finance, Singapore). He was also instrumental in achieving top awards:
National Infocomm Awards 2016 for the Most Innovative Use of Infocomm Technology (Private Sector – SME) conferred by Infocomm Media Development Authority Singapore (IMDA)
Entrepreneur of the Year Awards 2017 for a business owner in Physical Security
Stanley Ng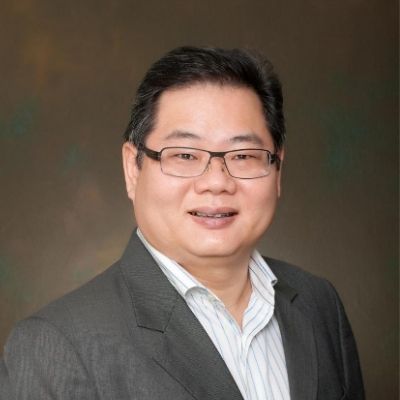 Mr. Stanley Ng is a seasoned innovator and entrepreneur. He is also a practitioner and facilitator/coach specialising in Digital Business Model Innovation, Product and Project Management.
He applies industry leading practices including BMI Labs, AIPMM Product Management Framework, Ryan Levesque ASK Method and Agile and PMI's PMBOK methodology in innovative projects.
He has more than 25 years' experience with The Genting Group, Tradenex.com, Microsoft and Hewlett-Packard as well as with start-up companies.
In addition to his invention of the Incident, Identification, Monitoring, Control and Reponses System at AmerAsia Technologies, he has worked on the following innovatioin projects.
Mining digitalization using blockchain technology
Patented Visitor Access Control System
Patented Mobile Command Centre for Cluster Security
Instant Cashback App marketing platform
Autonomous Industrial Robot solutions
Customer Engagement and Sales Funnel Management Software
Global digital customer engagement and loyalty programme for 12 million members
Global Hospitality & Property Management System for 10,000 rooms
Industry content management system for 17 industry groups and B2B value chain
He holds the following professional certifications:
Certified Blockchain Professional
Google Analytics Individual Certification
ASK Method Associate, personally certified by Ryan Levesque, the founder of ASK Method and author of LA Times bestselling book, ASK.
Certified Product Manager (CPM) and Certified Product Marketing Manager (CPMM) by the Association of International Product Marketing and Management (AIPMM)
Project Management Professional (PMP) by Project Management Institute (PMI).
Certified Professional Intellectual Property Manager (CPIPM)
Advanced Certificate in Training and Assessment (ACTA)
Quality Function Deployment (QFD) – The American Supplier Institute
He has a Diploma in Adult and Continuing Education (DACE) and a graduate of the California Institute of Quantitative Biosciences (QB3) entrepreneurship programme and the University of Oklahoma with a BBA in Management Information Systems.
Larry Lu
BUSINESS PROFILE
Larry is a market leader with extensive experience in Sales, Sales Management, Negotiation, Business Development, Solution Sales, Business Management and Strategic Marketing. His background combines a unique blend of business, technical, and professional consulting services, multi-cultural and international experience, and an outstanding record of achievements in building and directing highly motivated teams. He is also fluent in Mandarin. Larry enjoys selling at the senior management level. Positions held by Larry, both currently and in the past, require frequent interface with senior staff from both internal and external customers. Larry has a proven ability to influence cross-functional teams and develop effective strategic solutions.
ACCOMPLISHMENTS
Produced and delivered professional services revenue of $5 million for a company that accounted for, at the time, more than a third of the valuation of all Toronto Stock Exchange companies (referred to herein as "the Company").
Produced $350 million in product US market revenue for the Company in one year.
Developed the Company's Asian market with major wins exceeding $100 million.
Developed and executed new products in nationwide road show.
Led a task force to redesign and reduce network design and engineering time by 15% in 3 months. The revenue captured by this improvement was a 30% increase.
PROFESSIONAL BACKGROUND
Upon graduating from Concordia University in Montreal, Canada with an Electrical Engineering degree, Larry began his career in firmware and software development. He designed, developed, debugged and tested software and firmware for the real time Signaling protocol for the Telephony switch peripheral on the ISDN project.
Larry thereafter moved to a Telephony Network Planning role at Nortel Networks. He developed the methodology, deployment strategy, and economic justification to deploy fiber remotes in buildings. One function included next generation access product direction and supported the international market on access network planning and engineering in China, Mexico, Taiwan, Japan, and Hong Kong. Larry was quickly promoted from manager, senior manager, and then the Director of Metro Business and Network Consulting for the global market.
Larry then endeavored to become a business owner and built a consulting services company. The company focused on aiding and advising organizations on how to improve their results through a proven method of leadership, sales, and customer service development and through process improvement solutions. Process improvement allows organizations to do more with less, by reducing time and costs. Uniqueness is in people and process development. Larry believes people should not be trained, but developed to reach their untapped potential. In addition, Larry was both a franchise owner and the mortgage company.
Presently, Larry works closely with the CEO and Vice President of USA Gateway, a company specializing in airline ticket wholesales, overseas VoIP systems, and data network layers. Larry also operates as the corporate liaison to the legal team on collections and human resources issues. USA Gateway has 40 offices across the United States, and call centers overseas in China, Taiwan, India, the Philippines, and El Salvador. Larry's role spans multi-state and intercontinental borders.